Woodgrain paintings came about in the pursuit of clarity and beauty. They required method and discipline, a sense of irony, but nothing to give you a headache. Having made my point I went away to Fairy Tale land to start a new life, and when I came back all the decorators were in on the act.
"Stream, summer" was painted in a wood in Sussex, over several weeks. Woods have attracted me since childhood .
I read about a wall covered in drawings by Pisanello in Mantua.
When I arrived at the building it was raining. The view was so exciting I did a drawing in my sketch book before going in.
The painting is the result.
All my paintings, including "Old Stories " are celebrations of moments of excitement.
Peter Davey : Painter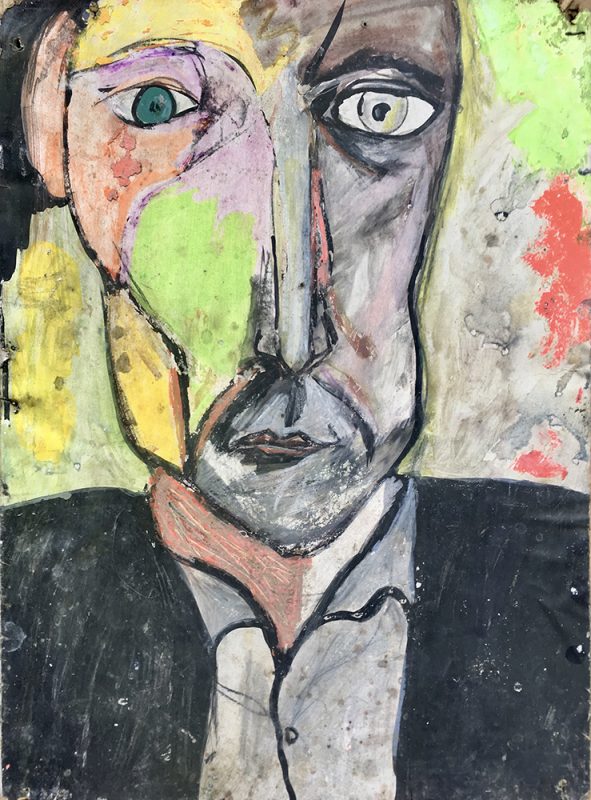 Born 1946 Devon
Studied 
Reading University
Chelsea School of Art
Lives in Sussex
1971
Half Moon Theatre, London
1972
Reading Museum + Art Gallery
Fairlight Glen, Hastings
Surrey University
1973
Victor Musgrave Gallery, Hastings
1974
Oval House, London
Garage Gallery, London
1975
Garage Gallery, London (solo exhibition)
Northern Young Contemporaries
1976
Stowells Trophy, Royal Academy, London
I.C.A., London
1977
Felicity Samuels Gallery, London (solo exhibition)
1979
Hayward Gallery, London
Galerie Defet, Nuremberg
Acme Gallery
1982
Aberbach Gallery, London
Decorex, London
1983
Decorex, London
1984
Decorex, London
1985
Decorex, London
1988
Ankrum Gallery, Los Angeles
Ulrike Kiby Kunstfocus, Munich (solo exhibition)
1989
Yvonne Hagen-Stubbing, Long Island
1990
Art 5 Nuremberg
1991
Art 6 Nuremberg
1992
Art 7 Nuremberg
1996
Studio, Sussex
1997
Laing Art Exhibition, London
Graham Gallery, Tunbridge Wells
Studio, Sussex
1999
Chequer Mead, East Grinstead
Fairfax Gallery, Tunbridge Wells
Vincent Morabito Gallery, Budapest
2001
Chichester Open Art
2002
Whitechapel Art Gallery, London
2004
South East Open Studios
Chequer Mead, East Grinstead
2005
South East Open Studios
2006
South East Open Studios
2007
Chichester Open Art
2008
Brighton Steiner School
2009
Galleria Rettori Tribbio, Trieste (solo exhibition)
2011
Galleria Rettori Tribbio, Trieste (solo exhibition)
2013
Galleria Rettori Tribbio, Trieste (solo exhibition)
2019
Limehouse Open, Three Colt Gallery, London
2020
Edition of 16 postcards of recent work
contact: 07795 202601 | info@peterdaveypainter.com