...infinitely varied foliage diversely stirred by the wind, then the motionlessness spreading over what lies in the distance, that movement of looking whereby the eyes ultimately peer all the way into what is imaginary. Words, like flowers, nourished by the streaming waters, and our very life bound somewhere to the lowest places, to horrible unfathomable depths with their buried lividness, yet also fed by a kind of freshness and suddenly responding to the stars by delicately blossoming into the shape of a rose or a star; suddenly dispersing a colour, a fragrance, in which the shadows and errors of life also nonetheless take part. The mystery of all things that rise from the earth, more or less with difficulty: flames, fan vaults, domes, vases, crowns, rockets, stars. Mystery of the multiple, of the uncountable. Dark and seemingly taciturn tress: cypresses; tress so close to the wind, feminine allies of the wind: acacias; privets surging forth from the earth with tranquil resolution and ever dripping wet, reflecting light; poplars and willows given a silvery sheen by the companionship of waters. How not be astonished?
Text by Phillipe Jaccottet, from "Patches of Sunlight, or of Shadow" translated by John Taylor, published by Seagull Books.
Marine

Waters where you settle like a lemon in a mirror. Sham familiar faces awkwardly capsize, break and crisscross in sour, sweet, sour spray that you escape by sliding into a wave teeming with threads and bevelled fins toward the land of shellfish.
Acknowledgement: André du Bouchet, translation: Eric Fishman from "Outside " Bitter Oleander Press
Peter Davey : Painter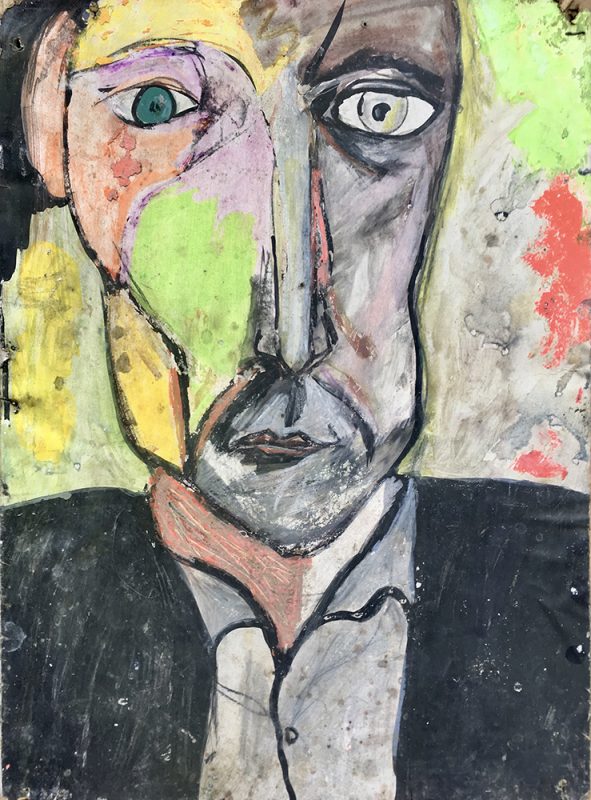 Born 1946 Devon
Studied
Reading University
Chelsea School of Art
Lives in Sussex
1971
Half Moon Theatre, London
1972
Reading Museum + Art Gallery
Fairlight Glen, Hastings
Surrey University
1973
Victor Musgrave Gallery, Hastings
1974
Oval House, London
Garage Gallery, London
1975
Garage Gallery, London (solo exhibition)
Northern Young Contemporaries
1976
Stowells Trophy, Royal Academy, London
I.C.A., London
1977
Felicity Samuels Gallery, London (solo exhibition)
1979
Hayward Gallery, London
Galerie Defet, Nuremberg
Acme Gallery
1982
Aberbach Gallery, London
Decorex, London
1983
Decorex, London
1984
Decorex, London
1985
Decorex, London
1988
Ankrum Gallery, Los Angeles
Ulrike Kiby Kunstfocus, Munich (solo exhibition)
1989
Yvonne Hagen-Stubbing, Long Island
1990
Art 5 Nuremberg
1991
Art 6 Nuremberg
1992
Art 7 Nuremberg
1996
Studio, Sussex
1997
Laing Art Exhibition, London
Graham Gallery, Tunbridge Wells
Studio, Sussex
1999
Chequer Mead, East Grinstead
Fairfax Gallery, Tunbridge Wells
Vincent Morabito Gallery, Budapest
2001
Chichester Open Art
2002
Whitechapel Art Gallery, London
2004
South East Open Studios
Chequer Mead, East Grinstead
2005
South East Open Studios
2006
South East Open Studios
2007
Chichester Open Art
2008
Brighton Steiner School
2009
Galleria Rettori Tribbio, Trieste (solo exhibition)
2011
Galleria Rettori Tribbio, Trieste (solo exhibition)
2013
Galleria Rettori Tribbio, Trieste (solo exhibition)
2019
Limehouse Open, Three Colt Gallery, London
2020
Edition of 16 postcards of recent work
contact: 07795 202601 | info@peterdaveypainter.com